For the first time, commercially viable diluted rice grown on seawater has been used in Chinese daily meals. Things like utopia have come true …
Young girl Ning Meng decided to buy a bag of rice from the store online to donate to her boyfriend family. Currently, her boyfriend lives with her parents in a city in Zhejiang Province, a bag of rice that is a meaningful gift she sent to her future husband.
At dinner, Ning and his family gathered around the cozy rice table. When the pot is opened, a light aroma floats around the room, which is the smell of rice is made from rice produced on new technology.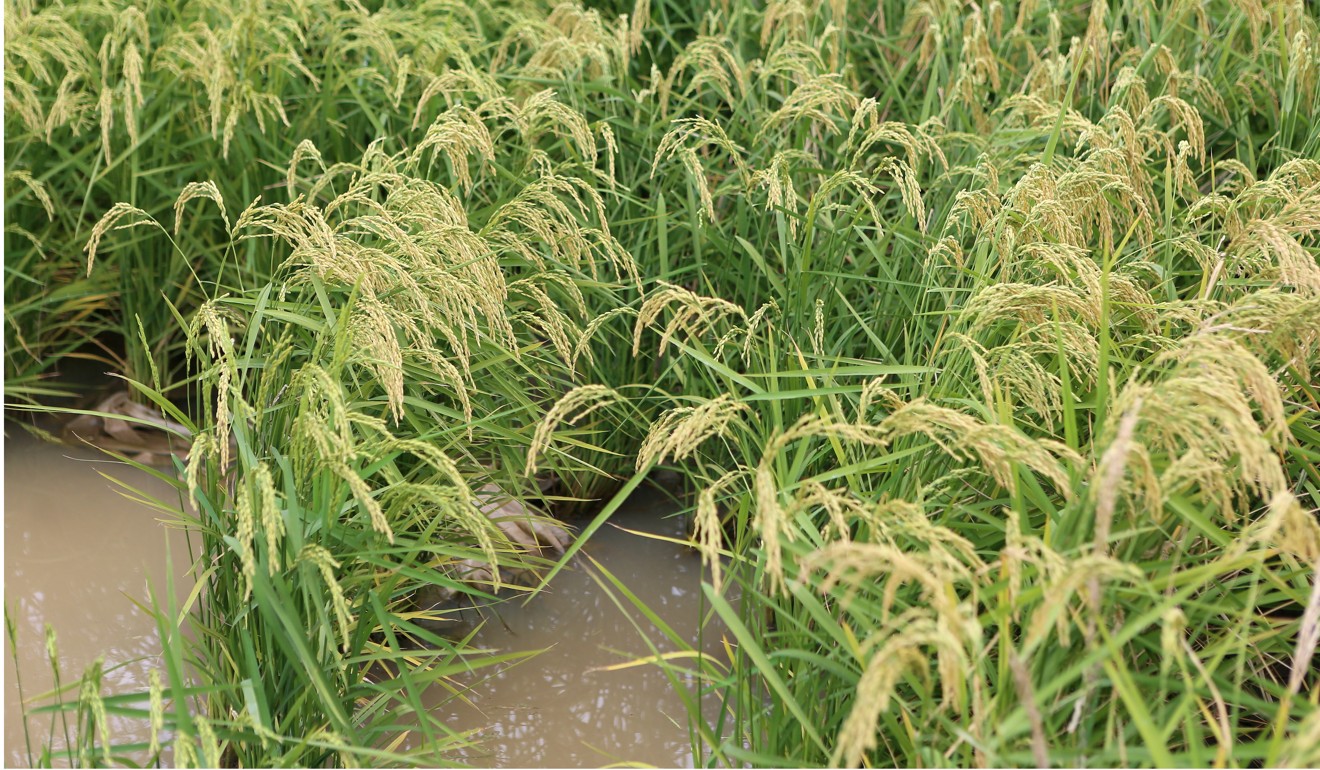 Rice is grown in salt water.
"Each grain of rice is blended in the mouth," Ning said, expressing satisfaction with the new rice. "My boyfriend said that this kind of rice is like the fried rice that people used to cook in the village. Its taste is great. "
Specifically, this rice is not traditionally grown in freshwater fields, but it is grown in saline water, particularly in the Yellow Sea coastal area of ​​Qingdao City, Shandong Province.
China has about 1 million square kilometers of wasted land, where trees are difficult to grow because of salinity or high alkalinity in the soil. Therefore, agricultural scientist Yuan Longping (87), dubbed the "father of hybrid rice varieties", has found a way to grow rice under limited land conditions. He said that one-tenth of the area used to grow salt-tolerant rice would increase China's total rice output by nearly 20%. They can produce 40 tons of food, enough to feed 200 million people with that land.
Mr. Yuan Longping (middle) and the research team went to the salty rice field in Shandong Province, China.
In the mid-1970s, worried about how to provide food to one of the fastest growing populations in the world, China began researching a viable rice variety. salt fields.
Early findings in this area belonged to researcher Chen Risheng in Guangdong Province when he accidentally found a red wild rice in the mangrove forest in Toan Khe District, Zhanjiang City, Guangdong Province.
After decades of selecting traits, crossbreeding and genetic screening, researchers have developed at least eight rice varieties that can grow on saltwater, but their productivity is still low, with only two tons per hectare, equal to one third of the normal rice yield, which is not enough to grow on a large scale.
Recently in China's largest saltwater rice field in Qingdao, results from Yuan's research team proved to be very good at harvesting about 4.5 tonnes of rice per hectare.
Saltwater rice is harvested.
Yuan Ce, a startup company in Qingdao, partnered with Yuan's scientific research group, opened an electronic rice shop and named it "Yuan Mi" for its products. The achievements of the "father" of the project.
The current rice variety is harvested from last year. This season will officially begin next month. Each kilo gram of Yuan Mi rice is priced at $ 7.5 (equivalent to 170,000 dong), which is eight times higher than the normal price of rice. Last month, nearly 1,000 people ordered the rice and the Yuan Ce store so far has sold 6 tons of salty rice since August.
"Our sales target is 10 million yuan (34.3 billion) by the end of the year," said Yuan Ce's sales manager.
Professor Huang Shiwen led a research team on pest diseases on rice at the China National Rice Research Institute in Hangzhou, Zhejiang, claiming that seawater is a natural cleanser that can reduce or eliminating the transmission of some diseases caused by bacteria.
"In order to survive in harsh environments, new strains of rice have to have some" tough "genes that will better resist the attacks of pests or pests, or lower body of the tree, "the professor said.
The rice variety developed by Yuan and other scientific groups before is not grown entirely on seawater but will be mixed with fresh water to reduce salt concentrations to 6 grams per liter of water. Typically, an average liter of salt contains about 30 grams of salt.
The researchers say it will take years to develop the variety of rice grown on pure seawater.